I watched the David Haye Vs Nikolai Valuev WBA Heavyweight title fight a couple of hours ago. There was a lot of hype before the fight billed as "David Vs Goliath", given the whopping 7 stone weight difference and significant height difference between the two boxers. Before the fight, David promised that he would be the first man to knock out the "beast from the east" and did some thrash talking about the huge Russian.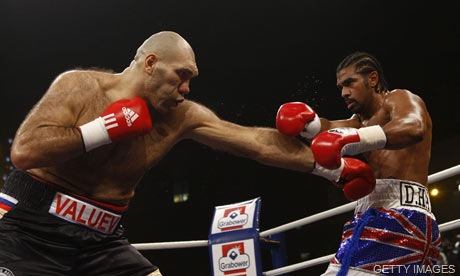 Well, the fight was far from a spectacle, it was twelve rounds of a cat-and-mouse game, not many punches exchanged and there was no knock out. David Haye won by a majority decision on points and is now the WBA Heavyweight Champion of the world. David was slipping and sliding more than punching. His negative tactics were understandable since he was facing a giant with a massive height and weight advantage, but he could have thrown more punches in the earlier rounds as he in fact rocked Nikolai a bit in the last round with a combination (after the match, David said that he hurt his right hand in the early rounds and so didn't use it much).
Although no boxing fan would want to see a title being won in such a boring match (and some may even argue that David did not do much in the fight to win the title) , David's victory is a breath of fresh air for the boxing Heavyweight division. David Haye has the skill, speed, power, aggression and charisma for a world champion (though he can do without a bit of the thrash talking pre-fight), whereas Nikolai is just a boring giant who relies more on his size than skill. Lot of big bucks await David Haye and I wish him well. It will be interesting to watch him take on the Klitshcko brothers.

(Visited 2 times, 1 visits today)