Symptoms: The following errors were encountered when associating a Service Profile with a B200 M3 UCS Blade:
ERROR 1:
SRIOV PF/VF vNIC configuration failure. Incompatible Bios Policy Settings for SRIOV vNICs There are not enough resources overall.
ERROR 2:
[FSM:STAGE:REMOTE-ERROR]: Configure adapter for pre-boot environment(FSM-STAGE:sam:dme:ComputePhysicalAssociate:NicConfigPnuOSLocal)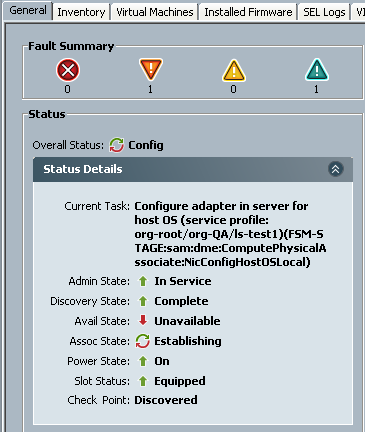 Background: 
Cisco's Virtual Interface Cards (VIC) such as the VIC 1240 support SRIOV and are used with Dynamic vNICS when provisioning Hypervisor hosts such as ESXi on Cisco UCS Blades.

Dynamic vNICs may be assigned using a "Global" Dynamic vNIC policy (applied to all adapters in the Blade) or to a specific adapter.

There is also a provision to associate a Dynamic vNIC policy with a vNIC Template.

Each CIsco VIC supports a maximum number of dynamic vNICS.
Resolution:
ERROR 1: The dynamic vNIC policy was disassociated from the vNIC template and assigned as a "global" dynamic vNIC policy.
ERROR 2: The number of vNICS in the global dynamic vNIC policy was reduced to 54 vNICS.
Root Cause:
ERROR 1: Caused by associating a dynamic vNIC policy (54 vNICS) with a vNIC template that was assigned to both vNICS associated with the Blade. It's not about the number of vNICS in the policy (54) which caused the issue here, but the use of the policy in a vNIC template. As a vNIC template is meant for vNICS and can be assigned to each of the maximum number of vNICS permitted for the adapter, it does not make sense to assign a dynamic vNIC policy to a vNIC template. I don't know why this option is provided in the vNIC template.
ERROR 2: Caused by associating a global dynamic vNIC policy (96 vNICS) with the Blade via the Service Profile. The number of vNICS exceeded the permissible maximum.
(1) The solution above describes a successful problem-solving experience and may not be applicable to other problems with similar symptoms.
(2) Your rating of this post will be much appreciated as it gives me and others who read this article, an indication of whether this solution has worked for people other than me. Also, feel free to leave comments.