Personal Storage Table (.pst) files are Microsoft Outlook data files that store copies of messages, calendar events and other items.
When migrating email service from On-premise to Office 365, users' PSTs might have to be imported into Office 365.
Importing PSTs Into Office 365
Two methods available:
Network Upload
Drive Shipping (USD 2.00 per GB current cost)
These methods are described in the image below, taken from Microsoft's Overview of the import procedure. Refer the Microsoft article for details.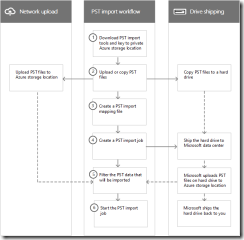 Network Upload
Clear instructions for importing PSTs with the network upload method are provided by Microsofthere.  Given below are some notes based on my  implementation of this method.
Tools to be downloaded
MicrosoftAzureStorageTools.msi  : AzCopy command-line tool that is to be used to copy the PSTs to an Azure Storage destination for the network upload method.
StorageExplorer.exe : Used to access the Azure Storage destination and confirm successful upload of PSTs.
Destination for the Upload
When following the steps to import PSTs to Office 365 with the network upload method, you will be provided with a Shared Access Signature (SAS) URL that represents the Azure Storage location (associated with your account) used as the destination for the PSTs.
PST Mapping file
This is a CSV file that maps the PST file(s) uploaded to the Azure Storage location (SAS URL) to the mailboxes associated with your Office 365 tenant. This file is used by the Import job to ensure that the uploaded PSTs are attached to the correct mailboxes. An example CSV that maps the sysadmins.pst file to the mrkips@itnot.es user mailbox is shown below.
Workload,FilePath,Name,Mailbox,IsArchive,TargetRootFolder,SPFileContainer,SPManifestContainer,SPSiteUrl
Exchange,,sysadmins.pst,mrkips@itnot.es,FALSE,,,,
Some Metrics
Size of PST: 651.5 MB
Network Upload (depends on your internet connection): 8 min 7 sec @ avg. 1.3 MB/s
Validation time of PST Mapping file: 3 sec
Analysis time of Import job: 4 min
Execution time of Import job: 52 min @ avg. 0.2 MB/s
(Visited 44 times, 1 visits today)