It's been a year since I bought an LCD TV (LG 32LB75) that is capable of accepting 1080p input (HD ready 1080p). However, I've only used my LCD TV for viewing SD TV and videos. Well, I'm not ready to invest in Blu-ray or Sky's HD services now. I thought about trying upscaling (I know it can never be as good as true HD) options until I decide to go down the full HD route and had my eye on Oppo, but Oppo was beyond my budget. Then, while skimming through the electronic products section on Amazon, I came across the the Cyclone Micro HD HDMI 1080p Upscaling Multimedia Player Adaptor selling for around £25 and having rave reviews. So, I purchased the Cyclone Micro just before Christmas 2009. Images of the front and back covers of the Cyclone Micro packaging box are given below: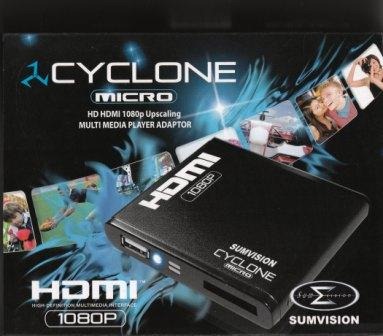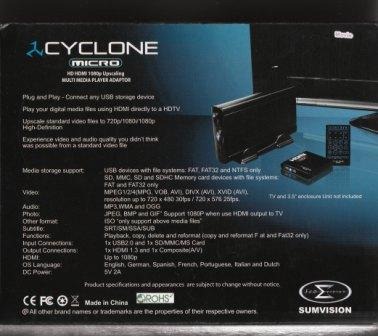 Being so cheap for what it claims to offer, I did not have much expectations from the Cyclone Micro. All I wanted was a quick, easy, cheap way of viewing my DivX and Xvid videos (purchased via Graboid). Well, I have been impressed so far. The Cyclone Micro is a little gadget (smaller then my BlackBerry) that has adequately met my requirement for playing Xvid video on my LCD TV. All I do is download an Xvid video via Graboid, store it on my 8 GB SanDisk USB Flashdrive, stick the flash drive into the Cyclone Micro, connect the Cyclone Micro to my LCD TV via a HDMI cable (only an AV cable comes with the Cyclone Micro, so you'll need to purchase an HDMI cable separately if you don't already have one), switch on the Cyclone Micro and select the HDMI Input source on my LCD TV. When done, the Cyclone Micro home menu is displayed on the screen. Using this menu, I select the video I wish to watch and voila! The Cyclone Micro comes with a nifty remote control, loaded with adequate controls like play, stop, forward, rewind, zoom and volume. You can also select your upscaling resolution. By default, the first movie played with my Cyclone Micro used DVD resolution. Then, when I selected 1080p as my default resolution, the video was noticeably different (higher quality). So, the Cyclone Micro does improve video quality with its upscaling (not out of this world, but great enough for such a cheap product!).
I haven't experimented using my Cyclone Micro with other video, audio and picture formats, but so far, for my requirement of playing Xvid videos on my LCD TV, I believe that the Cyclone Micro has given me bang for my buck!